If you missed the news: I'm showing Bleed 2 at PAX Prime next weekend! Come by, say hi, try the game! I'll be in the Indie MEGABOOTH!
I spent this week preparing a new demo build for the show. At face value it'll look like I'm simply demoing the first level of the game, but there are a ton of edits I've made to help it shine in an exhibition setting, as well as fixing some common problem areas. I'm gonna list as many of these edits as possible to show the amount of work that can go into preparing a demo! I hope it's not too much of a ramble.
Build An Arcade Cabinet
My basic philosophy to showing at exhibitions is to treat the booth like a big arcade cabinet. It should be simple and straightforward and entirely self-contained, and ideally it should draw peoples' attention as much as possible. If I do it right, I shouldn't even need to be there at all (although of course I will be, for just about every moment!)

First off, I created a new main screen with as little clutter as possible — just the game logo and player select (arcade-style!) Since some stations will have co-op and some won't, player two's area won't even display if a second controller isn't plugged in.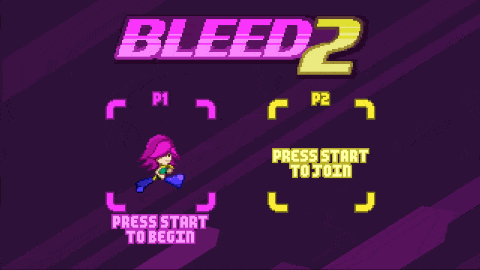 More, I added an attract mode! For those not familiar: you know how if you leave old arcade cabinets alone, the game will start playing itself? That's called an "attract mode" — it's meant to get people interested so they'll try the game. It's a lot more exciting than the main screen, and will work much better than me hassling every person who comes by. Who knew all my replay work would eventually have a payoff!