This week I was invited on the Escapist Magazine Twitch stream to talk about Bleed 1 and 2! John Markley played through the original, and a demo of the sequel. Here's the link if you want to check it out, it was a whole bunch of fun!
Anyways — two and a half weeks until the game comes out, yay! Also: yikes!!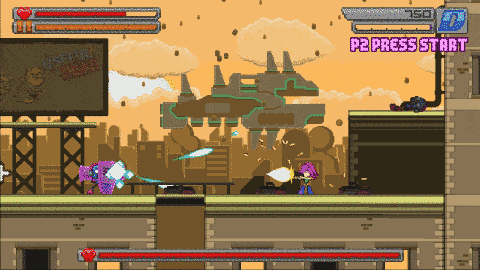 I've been busy with bugfixing and playtests this week, which is an invaluable but high-pressure (to me) part of the process. Playtest feedback is almost always useful, but fixing problems also tends to create more problems — Bleed 2 is such a giant interconnected machine at this point, it's hard to fully appreciate the impact of even small changes (until someone tells me I broke something.)
That's all fine, but to me the pressure comes from when the feedback concerns more than bugs. What if players aren't sure how to dodge a specific attack, or they don't find an unlockable character fun to play? That's when I have to start weighing my own perspective against fresh ones — sometimes many fresh ones! I feel strongly about the design decisions I've made, but I also recognize that I'm not objective on this game any more. I have to decide what to stand firm on, and what to change to make the game as fun as possible!