Time for something a little different. I'd like to discuss my approach to making Bleed 2, and how I'm attempting to develop it in a way that maximizes both my enthusiasm for work and the quality of the game — two things that can really suffer during long development cycles.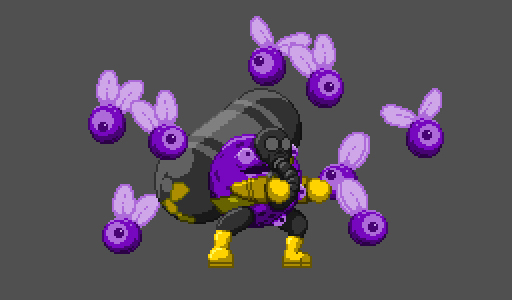 Bleed 2 has existed in some form or another for almost two years now — I actually have a back-up from Jan 1st 2013, when I was first re-designing Wryn's sprites . Back then, it wasn't "Bleed 2″ — it wasn't really anything, just me having fun and working on my art between other projects. But the more I played with it, the more I thought about it and the more it seemed like there could actually be a second Bleed. The problem is, there are some major hurdles that come with a large undertaking like this. I'm not sure if the experience is universal, but I suspect it may be.
It's the easiest thing in the world to get excited about an idea, but that initial excitement only takes you so far. You ride the high for a while — you lay the foundation, you make a couple of test levels and some enemies — all these fresh, new things are coming together! Your dreams are being made manifest and you're on top of the world. But the more you accomplish, the less instant the gratification becomes. The initial burst of enthusiasm eventually fades, and the enormity of the task before you stretches out for what seems like eternity — you still have an entire game left to realize. At this point, completing the game becomes a labour of love. It's worth it in the end, unquestionably, but in the thick of it motivation takes a serious hit, and quality can really suffer as a result.