I've been up to my eyeballs in audio the past handful of weeks, and I know I need a break from it, and you probably do too. BUT!! This week was spent re-writing large parts of my audio engine and roughly balancing the audio of the game.
What's with me and constantly re-doing things? Well, I've been using the same audio code for almost 8 years now, adding to it here and there when I needed to but keeping it mostly intact. The amount of polish Joonas brings to the audio really highlighted major problems in my code and forced me to make it a lot better! I'm about ready to record a trailer, but I don't want to have obviously crappy audio in it, especially when Joonas is doing such awesome work, soooooo this was the time it had to be done.
An example of a problem I was having: I showed long ago how sounds fade the farther they were from the player, like so.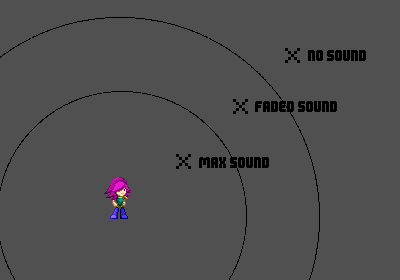 It's neat, but it produces unpredictable results. Depending on how zoomed-out the camera is, sounds can be on-screen but faded, or even completely silent. So, a boss could be right there in plain view warming up an attack and you'd never even hear it. Not cool.
I changed the circle to encompass everything the camera could see instead, but that just produced a different flavour of unpredictability, since now sounds can be way off-screen in some cases and still heard, or barely off-screen and not heard.