Hi! Welcome to the development blog for Bleed!
What is Bleed, you ask? Well, Bleed is a lot of things. It's my vision of the evolution of action-platform games — a genre I hold dear but feel growing stagnant. It's my stab at creating the kind of game I've always wanted to play, one where movement and attack are fluid and truly unconstrained, where nothing holds the player back but their own skill and split-second decision-making. It's also just a whole lot of ridiculous fun that I hope anyone will be able to enjoy. Thanks for asking!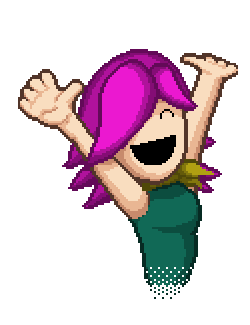 Bleed stars Wryn, a spunky young girl who wants to be the best video game character of all time. The only way to the top is taking out the roster of everyone's favourite heroes, and with a little bit of help and a whole lot of bullets she's bound to succeed!
Bleed's been in production in some form or another for two to three years now, and the light at the end of the tunnel is finally beginning to peek ever-so-faintly into view. It was entered in Dream Build Play 2011 and while it didn't go anywhere you'd call successful, it's back in a huge way this year and better than ever. This blog will focus on the making of the game, lessons learned over the years and the process of examining and improving what was entered in 2011! Lots of content will follow but PAX East ain't gonna attend itself, so for now here are three screenshots. Though they aren't much, they go a long way towards illustrating the difference a year can make.